Actionable Google Analytics for WooCommerce
[ad_1]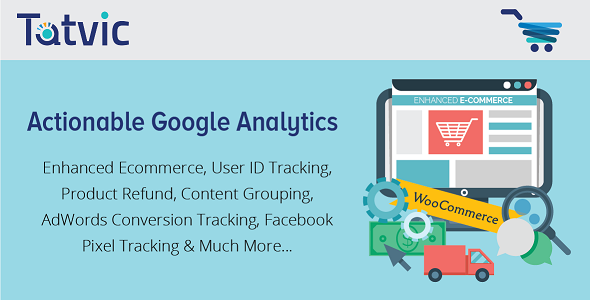 Our Plugin tracks following Custom Dimensions & Metrics in your GA
Custom Dimensions:
Stock Status: Learn whether the product is in stock or out of stock. Keeping track of out of stock products will prevent you from acquiring traffic
on the out of stock product URLs.

Page Type: Identifies the type of the page. Example – Category Page, Product Page, etc. Helps you to compare the performance of different site
sections.

Product Discount: Getting Discount data in GA can actually help you in strategizing the discounts by analyzing the impact it is causing on the
product demand and other key metrics

Payment Method: Get insights into which Payment method (paypal, credit card, etc) is most popular for your store, which generates higher AOV and
Transactions

Shipping City & Billing city: Integrates the billing city & shipping city data directly into your GA. It Helps you learn about product
demand using insights on Shipping & billing cities.

Weekday: Learn whether a transactions was completed on weekday/ weekend. Helps you in comparing Weekdays v/s Weekend Performance

Local timeslot of the day: Learn the local time slot during which maximum transactions happens on your store. This can help you improve your
marketing activities across different Geo locations.

User Type: Using this custom Dimension you will be able to differentiate users based on their checkout method. It will help you understand the
popular checkout method of your store.

Sequence at Product Page: Tracks the sequence in which products pages are viewed in a session. It will give you the idea as to which products are
viewed can be offered as a part of recommendation.

Add to Cart Button Position: The following dimension helps you understand how 'Add to Cart' button's position impacts your CTR. Compare 'Add to
Cart' buttons position above the fold & below the fold to take important design decisions.

No. of Product in Stock: Using this custom dimensions you will be able to learn the stock availability of the product right into your Google
Analytics. Understand how showing stock quantity of the products is impacting its sales.

Time Taken to make Purchase: Learn the time taken by users to make purchase after landing on your store. It will help you make real time offers to
users.

Time Take to add Product to Add to Cart: Learn the time taken by users to add product to cart after arriving on the product page. Insights
generated from the data will help you strategize the promotional offers.

Product Size: Track the size of the product in Google Analytics. This will help you analyze the product sales in terms of its size.

Product Review Count: Learn no. of reviews provided by users for each product. It will help you understand the relation between review count &
product demand.

Product Review Score: Learn average review score for each product in Google Analytics. Understand if a review score of a product increases the
conversion rate or not? Additionally, compare the performance of products with low review score & high review score.
Custom Metrics:
Total monetary value of products viewed: Learn total monetary value of product viewed by a user in a single session. It helps you understand total
monetary value of products users generally view & what value of product they end up buying.

No of clicks on Category Pages & Product Pages: Tracks numbers of clicks that happens on Category Page & Product Page. It helps you to understand
the user engagement.
New Functionality as per GDPR compliance
Google Analytics opt-out Feature: This feature provides website visitors to prevent their data from being used by Google Analytics As per the GDPR compliance
Client ID Tracking: Use this feature to collect client id (for remarketing) from your website in your Google Analytics account. It's advisable to update your privacy policy with the consent screen to get the client id of the visitors
Plugin Privacy Policy: As per the GDPR compliance, you need to accept the privacy policy of the plugin
Installation Instruction
Download the plugin ".zip" from CodeCanyon (Use the option " All Files & Documentation" from the drop-down)
Log into your WooCommerce Store as Admin & Upload the Zip File in your plugin section
Activate the Plugin
Enter you License Purchase code for user verification
Enable the features you wish to track
Accept the Privacy Policy of the Plugin & plugin will start collecting the data in Google Analytics
User Reviews
Following is a selective list of feedback received from users
Change Log
CC-V3-3.5
WC 3.6 Compatibilty
Include Site Speed Sample Rate
Minor Bug Fixes
CC-V3-3.4
Optimization & Improvement for FB Pixel
Minor Bug Fixes
CC-V3-3.2
Optimization & Improvement for Bundled Product
Minor Bug Fixes
CC-V3-3.1
CC-V3-3.0
New User Interface
New Feature – Google Adwords Conversion Tracking
New Feature – Facebook Pixel Tracking
Automated Refund Process
Support
If you have any questions or query visit us at http://www.tatvic.com/contact & and we'll get in touch with
you in 24 hours. Additionally, our Plugin includes upto 1 hour of Customization.
Note :

Our plugin does not support the below features out of the box:
Highly Customized Themes
Product Types other than Variable and Simple Products
Store with the Subscription system for Orders (Our plugin can only track one time order)
Ecommerce Pages with Shortcodes
If your store having the child theme; kindly contact us at analytics2(at)tatvic(dot)com
Only Provides Google Optimize Snippet Adding functionality; No other support to setup Google Optimize Experiments
Only Provides Google Adwords conversion Tracking functionality; No other support to verify & compare Google Adwords & Google Analytics data & Dynamic Remarketing Support
Only Provides FB pixel tracking for standard Ecommerce Events; No other support to verify & compare data, Creating Audience, Custom Events Implementation (Paid Support Available)
Valid for Single Domain Usage only
We request you to contact us before purchasing the Plugin.
[ad_2]
Source
Free Png Image Download