Bot Inboxer – A EZ Inboxer Add-on : Multi-account & Multi-page Messenger Chat Bot for Facebook
[ad_1]
Bot Inboxer – a EZ Inboxer add-on, is Facebook Messenger Bot application. You will be able to set your messenger bot for multiple pages. The bot can reply with text, post back button, quick reply, image, video, template, carousel template & so on. Setting up your messenger bot with Bot Inboxer will reply all your customers in messenger very fast. To use this add-on, your EZ Inboxer app requires https.
It's a multi-user add-on means you can allow your users to use this add-on.
FACEBOOK APP PERMISSION NEEDED : manage_pages & page_messaging



Key Features
Multi Users
Multiple Facebook Accounts
Multiple Facebook Pages BOT
Multiple Reply Settings
Text, File, Image, Audio, Video, Gif Message
Generic Template.
Carousel Template
Post Back Buttons, Quick Reply Buttons
Button Of URL, Phone Numer.
Quick Reply button of user Email, Phone Number.
Peronalized Reply with First Name, Last Name.
Mark Seen Action enable option
Typing on Enable Option
Error reporting log of reply.
Nested Persistent Menu
Different Persistent Menu add for Different locale.
Your Brand URL set option in Persistent Menu
Collect Email From Quick Reply
Collect Phone Number From Quick Reply
Download Email & Phone Number As CSV
Live Demo
Want to see Bot Inboxer in action? Click here
Backend Demo Link: https://inboxer.xeroneit.net/home/login_page
Login as Admin
Username: [email protected]
Password: 123456
Video Manuals
Documentation
Want to know more about Bot Inboxer? Please read our Documentation

EZ Inboxer Add-ons Available in Market
Change Log
9th May 2019 : v3.3.8
- Some code level bug fixing.
- Messenger BOT , PageResponse Enable/Disable adjustment for new customer who use same APP for PageResponse & BOT Inboxer.

5th May 2019 : v3.3.6
- 2 way customer chat plugin postback click reply fix.
- Support for using EZ Inboxer app as Bot Inboxer app.

28th April 2019 : v3.3.5
Fix: Getting error in Generic Template reply without Sub-Title.

24th April 2019 : v3.3.4
Fix: Subscriber list search issue fix.

23rd April 2019 : v3.3.3
New: read_insights permission settings for Messenger Bot Analytics Add-On
Improve: Carousel template can now have 10 items.
Fix: Edit unsubscribe button fix.

20th April 2019 : v3.3
New: Page delete option added.
New: Media type template has been added.
Improve: Messenger bot subscriber list modal with grid pagination.
Improve: Child postback IDs are not unique and in bot settings, user can select multiple same postbacks.

23rd March 2019 : v3.2.5
- Email & location collect issue
- Module name fix
- File upload limit setting in FBInboxer general settings section.
- Square Image size issue fix.
- Access restriction for expired members.
- Bot settings import issue (persistent menu)
- member user export bot settings issue
- Support for migrate Facebook lead as messenger subscriber
- Chat with human settings
- Sub-title is made optional again for generic/carousel template
- Chat with human/bot, unsubscribe/resubscribe post-backs can be found in persistent menu
- Support for upcoming add-on JSON API connector

17th January 2019 : v3.1.1
-New: Images and buttons are optional in generic and carousel template
-New: Get started welcome screen message setting
-New: Support for upcoming add-on (bot export import)
-New: RSS auto posting support for messenger broadcaster add-on
-New: Label add or segmentation based on postback click in Post-back Manager
-Fix: Multiple duplicated reply for large typing delay issue
-Fix: Postback manager edit bug fix
-Fix: Persistent menu (default locale) publising issue in some server
-Fix: Typing on settings issue
-Fix: Facebook bug of get page list and throw error in first attempt
-Modify: Template manager has been renamed to Post-back Manager

3rd December 2018 : v3.0.3
-Fix: Module limit over issue fix.
-Fix: Disable & re-start bot issue fix in the bot list page.

18th November 2018 : v3.0.1
-Fix: Added some missed sql
-Fix : Persistent menu remove button in edit

8th November 2018 : v3.0
-Improve: UI & UX modification throughout the addon
-Improve: New emoji plugin integration
- New: Spintax support
-Fix : Persistent menu edit bug fix
-Fix : Enable bot fix for recent graph api
-Fix : Post-back id dropdown in persistent menu and template manager
-Fix : Other minor fixes

4th September 2018 : v2.5.1
- New: You can add up to 11 buttons in quick reply section.
- New: Ability to enable bot, disable bot, restart bot or delete bot.
- Fix: Removed page_messaging_subscription permission. 

7th August 2018 : v2.4.8
- SQL addition related to subscriber data

v2.4.7
- Only auto update available

v2.4.6
- Only auto update available

1st August 2018 : v2.4.5
- New : Reply with list template.
- New : Set reply for user's location and store user's location.
- Fix : Loading issue during setting bot or edit bot.

22th July 2018 : v2.4.4
- New : Delete option in multiple reply section.

19th July 2018 : v2.4.2
- Fix : Minor bug fix in edit template and edit bot section.

2nd July 2018 : v2.4
For details please visit
- New : Template Manager
- New : Typing On Action Delay Setup
- New : Reply Setup after Email or Phone Number Collect from Quick Reply
- New : Image download of Subscribers
- New : Button Delete Option in BOT Settings
- New : Location Button
- New : Alternative user login system if your app has no manage_pages permission

30th May 2018 : v2.3.1
- Removed an unnecessary permission publish_pages

14th May 2018 : v2.3
- New : QuickReply phone number collect & download.
- New : Subscribers list download (For Backup).

5th May 2018 : v2.2
- New : Dashboard.
- New : QuickReply email collect & download.
- Change : Facebook account import system.

19th April 2018 : v2.1
- New : Setting for message mark as seen.
- New : Setting for showing typing on.
- New : Error report log.
- Fix : Minor bug fix

18th March 2018 : v2.0
- New : Bot Settings - multiple reply block setup (Max 3) for bot settings
- New : Bot Settings - call us button add
- New : Bot Settings - email & phone number quick reply 
- New : Bot Settings - first name, last name option in message text
- New : Persistent menu - nested menu system (also persistent menu is now a separate module, you can give access to your users or not )
- New : Persistent menu - Multi-locale (different menu for different language users)
- New : Persistent menu - system can embed a copyright menu for specific module user (this feature can be managed as module)
- Fix : File upload bug fix 
- Fix : Postback ID update bug fix

4th Feb 2018 : v1.1
- File upload issue

4th Feb 2018 : v1.0.1
- Multi-user messenger bot list issue fix
- Bot enable/disable message issue

4th Feb 2018: : v1.0
- Initial release
Support
Our team is ready to solve your problem as soon as possible. We are using support ticket system for easy management of client issues. Feel free to open tickets to our support desk.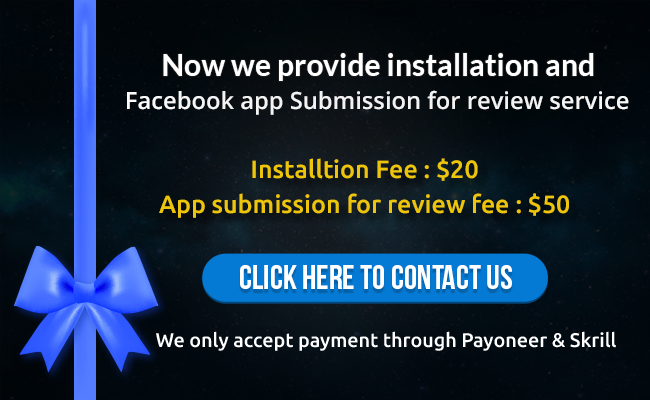 [ad_2]
Source
Free Png Image Download