Crypterion – Multi-featured Cryptocurrency Exchange platform (with self-hosted wallets)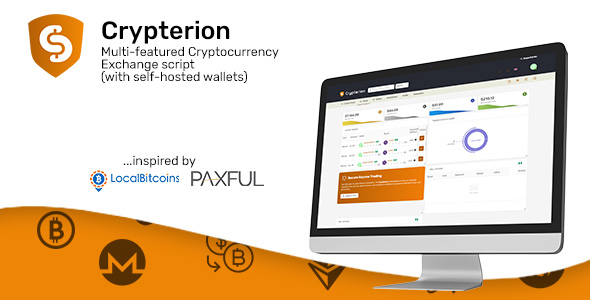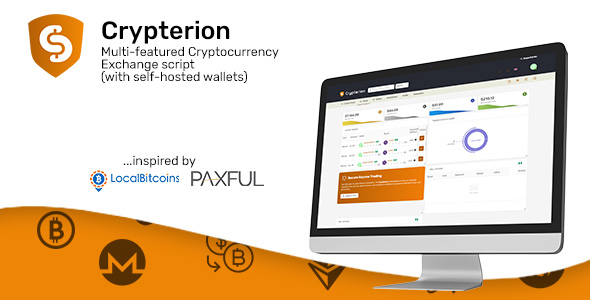 Update 1/23/20
We recently discovered that some server was running an older version of MySQL which used the old MyISAM
as the default table engine. While this works perfectly in the older release, future updates heavily depends on InnoDB.
Manually check your Database Tables to see if your installation was on the old MyISAM Engine, If it was, we strongly recommend that you
apply this update as a Fresh Install on a new database and make a transition into it. If you go ahead to apply this update as it is, you may
experience some issues in the future with your installation.
Demo Credentials
Super Admin Login
Username: SuperAdmin
Password: 12345678
Email: [email protected]
Crypterion is a multi-featured peer to peer, self hosted Cryptocurrency exchange platform. Crypterion comes with a
responsive and customizable design. Unlike most Cryptocurrency exchange scripts out there, we support self hosted
wallets, you get to provide free wallet service along side peer to peer interactive exchange.
A few coins provided by BitGo are supported at the moment, Moreover, we can integrate/adapt your custom coin upon
request provided that you have a reliable API service to integrate with.
Here, you will find all the necessary information as regards to the installation and usage of the script. Feel free
to check the FAQ section, you may discover one or two things which could be of help to you.
License Plans
Regular License
Lifetime License
Earn commissions
Limited to 100 users
Limited to 1 coin (excluding Bitcoin, Litecoin, Dash)
No API Support
No Platform Translation
No Platform Restyling
Extended License
Lifetime License
Earn commissions
No limitation
With Installation
Features

Peer 2 Peer Trading
Peer 2 Peer trading module matches buyers and sellers. With a real time chat system, users are able to trade one on
one. Essentially, the sellers are to set their own prices and type of payments they accept. Dispute are usually
resolved by moderators of the platform, and after a successful trade, a certain percentage fee specified by the
administrator is charged.
Geo Location
Users are identified by the country from which they are accessing the platform, this is used for personalizing
search result and it is indicated in user profiles and offer displays.
Contacts
Users may save contacts of their most trusted partners of trades, this will give them a faster access to their
offers, or choose to restrict offer visibility to them.
Multi-coin Support
It supports multiple coin system, and you are able to provide free wallet service to users. We have successfully
integrated with BitGo service and provided support for a few coins. However, if you need to integrate more specific
coins. Send us a support request.
Platform Customization
It supports a flexible customization system with which you are able to change color patterns to match your brand,
choose from 5 of our preset layouts, set a dark or light theme, e.t.c.
Both User Area's home page and Admin Area's home page are Widget driven and can be rearranged in your preferred
order. New widgets will be added with updates and you are able to enable/disable according to your preference.
Email & SMS Notification
The platform supports both email and sms notification system. Users of the system are allowed to choose which
notification they can receive. In the control panel you have the option of setting the messages that should be sent
for each notification.
Presence Status
Users presence status are updated in real-time. They can be either online, away or offline at any point in time.
This is indicated in their profile page, chat and offer display.
Two Factor
Two Factor has been integrated to provide an extra layer of security to users. This can be setup with Google
Authenticator or Authy application.
Phone & Email Verification
It supports Phone & Email verification, which can be done in user's settings. More verification system like KYC, AML
will be released in one of our next updates.
Multi-language Support
It supports multi-lingual setup which is located in the Control Panel section. This allows you to change language
files, add new locales e.t.c. directly in the Control Panel. After changes have been successfully made, users will
be able to see the localized version of the system
[ad_2]
Source
Free Png Image Download