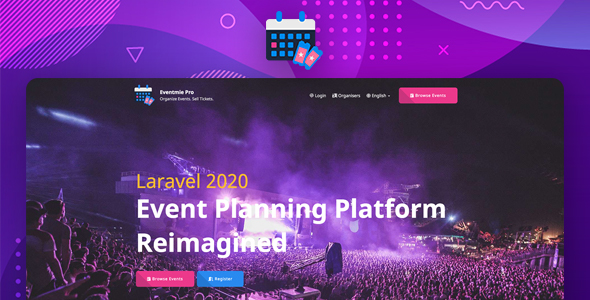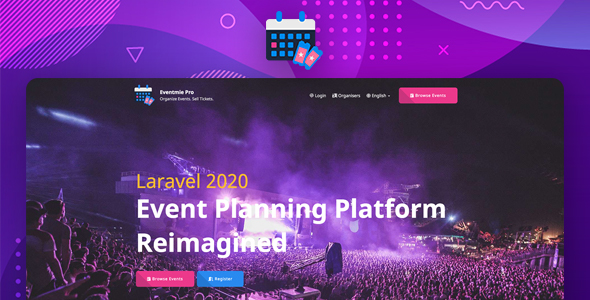 Eventmie Pro – Create a dedicated multi-organization platform for Event Planning with Laravel
Event Planning Platform Reimagined. Start selling events on your own domain.
What is Eventmie?
Eventmie is an Event planning and management Laravel package. With Eventmie, launch a dedicated platform for Event planning on your domain. Streamline the event planning process through automation. Eventmie is secure, scalable, production-ready.
Just install it into a brand new Laravel application or an existing one and start selling your events with ZERO commission & 100% PROFIT.
Important Links
Awesome & Advanced Features
Everything You Need
Streamline the event planning process through automation. Eventmie is secure, scalable, production ready & has got everything you need.

Laravel Package
Eventmie is a Laravel Package. Hence, you can create a brand new website or install it onto an existing Laravel website at your desired URL prefix.

Global Usability
Multi-regional, timezones, languages including RTL support. Set default regional settings and use Eventmie anywhere in the world.

Extra Responsive & Friendly UI
Fully responsive design, optimized for a mobile-first experience, including iPad, iPad-pro, small screen laptop & large desktops.

Host a Multi-Vendor Event Platform
Allow multiple organizers to publish events on your website while earning commissions on each paid booking.
Setup. Publish. Promote.
Want a dedicated website for your events? Eventmie is a one stop solution to publish, promote, and make your event a success.
Customize Event Frequency
Whether an organizer has a one-time event or desires repetitive scheduling, they can easily customize its frequency with the touch of a button.
Trouble-Free Checkout Process
Sell out an event with our seamless booking process that increases conversions and maximizes customer retention.
Multiple Booking Configurations
Whether an organizer's event is free, paid, or has a maximum ticket quantity, our various booking configurations have you covered.
Revenue & Commission
Manage revenue and admin commission for multiple organizers every month.
Event Speaker Profiles
By adding a speaker to an event, customers can learn more about them and will know exactly what to expect.
Earn From Sponsors
Create free or paid sponsored events by adding sponsors to your events.
You're in Control
Adjust settings like commission rates, default currency, timezone, language, and so much more from the convenience of your admin panel.
Toggle Multi-Vendor
Whether you want to use Eventmie as a Saas platform or as a single organization website, enable or disable multi-vendor option in one click.
Add Pages & Blog Posts
Spread the word about your brand and boost search engine optimization by easily generating content for your website.
Laravel Voyager Admin Panel
We've integrated Laravel Voyager package into Eventmie package in a way that you can still upgrade Voyager with new upcoming versions.
Install via Composer
Install Eventmie in a matter of minutes with no experience required. Simply install it like a Laravel Package.
Or. Install via Installer
For non-developers. Eventmie Pro comes with an Installer. Which makes the installation process fully automated.
Why Choose Eventmie Pro ?
Get The Source Code & Deploy On Your Server
Our all inclusive event planning solution gives organizers everything they need to deliver a successful event. Eventmie handles the entire process from start to finish, providing value to both organizers and customers. With Eventmie, you'll create an experience that participants will talk about for a long time.

Boost Event Attendance
Don't just let your event blend in. Make your event stand out on your own platform and accelerate ticket sales.

Maximize Profits
Stop paying unnecessary commissions on every sale. With Eventmie, sell out your entire event and keep 100% of the generated revenue.

Responsive. Secure. Robust
Protecting your customers with state-of-the-art security and a clean and attractive user-interface regardless of screen size. Optimized for all devices in an increasingly mobile-friendly world.

Full Support From Installation to Deployment
Whether you want us to install it on your server, manage it on a monthly basis, want to request a new feature, or have any other query, our support team is here for you every step of the way.
Our Services for Eventmie Pro
Free Installation
You get free installation, deployment & server setup for all premium products.
2 Years Free Updates
You get premium product upgrades & updates for free for 2 years
6 Months Free Support
You get 6 months free premium support on all premium products
Review & Ratings
You can add reviews & ratings on products to express your thoughts.
Support Tickets
You can submit Support Tickets for any kind of personalized support.
[ad_2]
Source
Free Png Image Download