Mailbox – Webmail client for Perfex CRM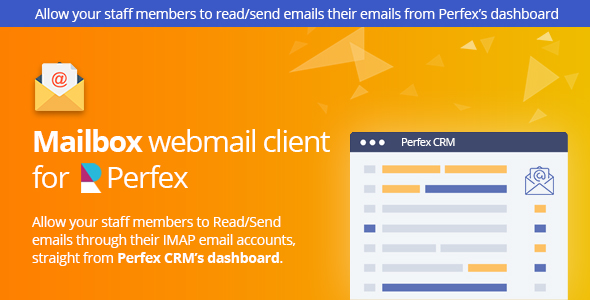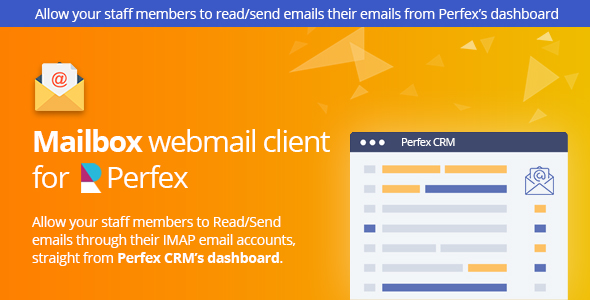 Note: This is a module for Perfex CRM.
Brief description
This module integrated a Mailbox client through your Perfex CRM's dashboard.
By enabling, you will be able to allow your staff members to send/receive/draft/organize e-mails of their IMAP accounts, inside their dashboard.
Prerequisites:
– You need an IMAP account which can accept connections over SSL/TLS from a third party app (your Perfex installation). If you are running under a 2-way factor authenticator, you need to disable it elsewise, connections wont be accepted by your server.

– You need to have cronjob of Perfex set up correctly, as per instructions found here: https://help.perfexcrm.com/setup-cron-job/

– You wont be able to use IMAP functionalities under a POP account. Make sure that your account is an IMAP-based one.

– This module was made in order to be able to view/respond to all incoming emails, within Perfex. Sent emails from this module will be stored into your sent folder if this option is enabled on your server, but actions like Star/Trash/Important will affect your local inbox (Perfex view) only and they will be stored in the database, along with their attachments in the appropriate folder.

Support
It takes only a few seconds to be installed, activated and have a fully working Mailbox client Perfex.
If you have any questions, feel free to raise a support ticket at our support area.
Guys from support department will get back to you as soon as possible with a reply.
Changelog
Version 1.0c / January 2020
Aesthetic bugfixes (profile picture/wrapping of email body text)
Version 1.0b / December 2019
Resolved conflict that caused Inbox/Sent folder to list identical data
Version 1.0 / December 2019
Initial version, fully compatible with the latest version of Perfex CRM
[ad_2]
Source
Free Png Image Download