QuickDate IOS- Mobile Social Dating Platform Application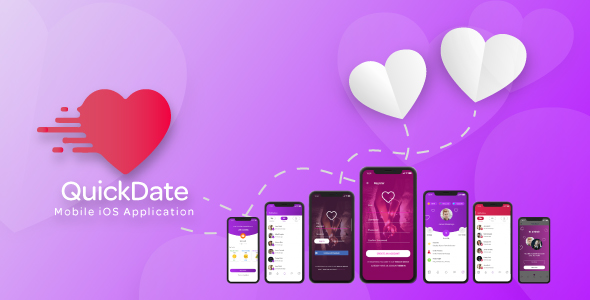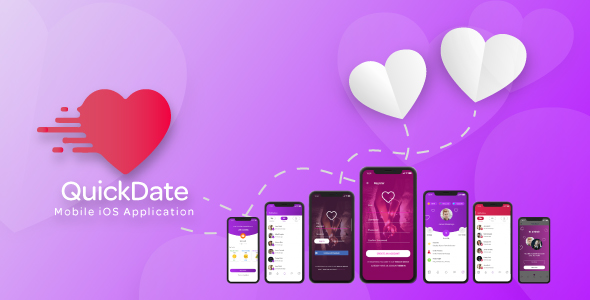 QuickDate is a social application for QuickDate Dating social network, with QuickDate users can Match & Interact with users profiles and like and find near by and more, Now using the application is easier, and more fun !
QuickDate app is easy, secured, and it will be regularly updated.
Requirements:
-QuickDate v1.1 or higher.

-If you are charging your users or sell in-app purchases you should obtain the extended license

User Features:
ِLike: User can like users in find match page..
Chat: Send, receive messages.
Regitration pages and steps.
Share and upload images and more.
Offline access to all messages and recent conversions.
Image Caching system.
Explore New Users and Friends and nearby.
Control Your Privacy and Settings.
Pro System: User can get top features by subscribing to one of the script pro packages. .
Change Profile information.
Credit System: User should purchase credit to use it on messages, gifts, likes. etc.
ِ30+ new features.
IOS Version 1.2 Update on (28/12/2019)
Added some new UI modification
Added ability to make audio/video calls.
Added ability to read blogs.
Added ability for bank transfer.
Fixed magor reported bugs.
IOS Version 1.0.0 First Release (23/9/2019)
Added Credit System Paypal / Stripe.
Added ability to boost profile.
Added ability swipe cards left and right.
Added ability to upgrade profile.
Added ability to view prenium users.
Added full Push-notifications system for all kinds of notifications.
Added ability to send/reiceve messages.
Added ability to login via social logins.
Added settings prefencess screens.
Added abilty to send Gifs.
Secured the app of illegal uses
Added ability to search for users online.
High Improvement on performance of the app.
Supports now all kind of Host TLS2/TLS3.
Added block users system.
Added abilty to delete account .
Add abilty for full screen.
Added font system .
Added ability for offset mode.
Added Ability To Report Users.
Added Native like and DesLike for users
Request App Permissions system.
Added Native Emoji keyboard view.
Added Empty state pages and offline pages.
Add multilingual system with auto detect android languish .
Added ability to display alerts , Toasts , success , errors, loadings , and more..
Added ability to handle image download and cache load and speed.
Added ability to handel offline mode and bad connections.
Welcome Page : New page added on the fisrt load .
Forget Page: Added ability for users to recover their account via email address.
Animations : added Animations on pages and items
Materials Design: Total new Design for the app
Added Image croper and rotate system.
Add Full Documentation install and errors solving .
[ad_2]
Source
Free Png Image Download