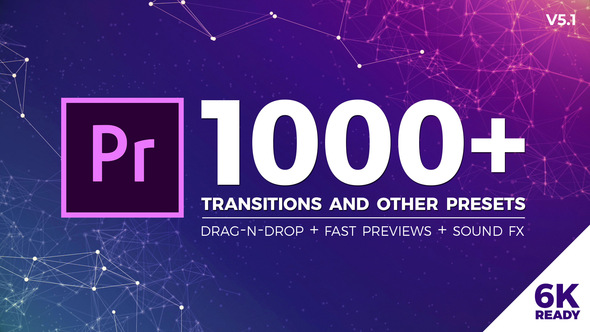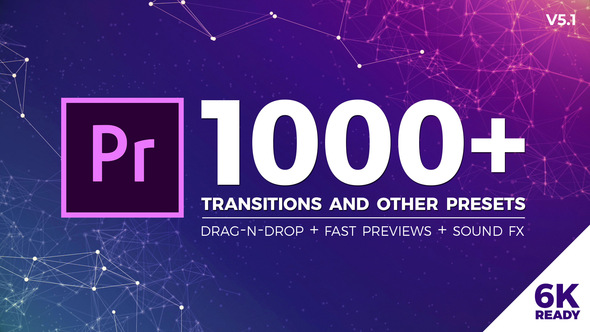 Drag-n-drop Transitions for Premiere Pro
No more replacing placeholder shots! Simply drop transitions on the timeline!
Please note, that project works in Premiere Pro CC 2018 12.1.0 and above.
For more details please watch "how-to-use" tutorial video.
And if you need any help, please visit support page or email me via my profile page.
Fast Previews
You can preview each transition right inside Premiere Pro!
What resolutions are included?
FullHD – 1920×1080
HD – 1280×720
Vertical – 1080×1920
Instagram – 1080×1080
Instagram Ads – 1080×1350
GoPro – 2704×1520
DCP Flat – 1998×1080
DCP 4K Scope – 4096×1716
DCP 4K Flat – 3996×2160
DCP 2K Scope – 2048×858
4K UltraHD – 3840×2160
4K Full Frame – 4096×3072
4K DCI – 4096×2160
4K Academy – 3656×2664
6K – 6144×2592
Luma Fade Transitions
110+ Zoom Transitions
90+ Glitch Transitions
150+ Flat Transitions
70+ Spin Transitions
45+ Warp and Panoramic Transitions
70+ Split and Stripes Transitions
70+ Glass Transitions
And 110+ Other Transitions
80+ Text Transition Presets
100+ Color Presets
What sounds are included?
5 Whoosh Swoosh Packs
5 Cinematic Swoosh Packs
Cinematic Sub Drops
Low Subdrops
Cinematic Epic Trailer Hits and Impacts
Dramatic Horn Transitions
Epic Cinematic Trailer Impacts – 2 packs
Glitch Transition Sounds
30 Glitch Sounds
Buttons
Bell Sounds
Digital HUD Interface Sounds
Camera sounds
Project Features:
Drag-n-drop method!
Works with any FPS
Works with any resolution
13 ready-to-use resolutions included
100% Premiere Pro (No After Effects needed)
Easy to use even if you are a beginner
User-friendly project structure
Fast previews right inside Premiere Pro
Various transition speed
Sound FX included
Fast support
Free multiple future updates
Premiere Pro CC 2018.12.1.0 or higher
GPU acceleration (Cuda or OpenCL)
Please note, that some effects are not supported by Radeon GPU (OpenCL), such as VR Glitch for example.
So just switch to Metal in your GPU acceleration settings to fix this.
What if you want to use this pack in your Videohive projects?
I don't mind if you use my transitions in your video-templates! My presets will help you quickly solve the problem of transitions between scenes, and create easy-to-customize modular template. It's super handy for any kind of slideshows, openers, promo videos etc. This pack will help you create a new unique design and save your time. Envato licence agreement allows such interaction. Read more in here: Envato FAQ.
Terms are very simple:
Simply buy extended licence
Please use these transitions in good faith. You can use them as decorating elements in your big project, which includes your layouts and your motion design. But you can not just modify these transitions or sound FX and sell as a separate product, or sell a Premiere Pro template that will consist only or mostly of these transitions.
Credits:
Images are not included. Source: Unsplash, Reshot
Videos are not included. Links
Feel free to email me if you're wondering about music used in the promo video
Please, rate my project if you like it!
Thank you
Version History
version 5.1 – 15 July, 2019
Added new luma fade transitions

version 5.0.2 – 25 February, 2019
Added new resolution "Instagram Ads - 1080x1350" 

version 5.0.1 – 23 February, 2019
Resolution has been fixed in "4K Flat - 3996x2160" project file

version 5.0 – 26 January, 2019
 + 100+ color presets added
 + "Anchor zoom" category added
 + New tutorial video

version 4.5.1 – 13 November, 2018
Small fixies in additional resolution project files

version 4.5 – 22 October, 2018
  Added 70+ new transitions:
 + Broken glass
 + Broken glass - RGB-split
 + Sliding Glass Diagonal 1
 + Sliding Glass Diagonal 2
 + Sliding Glass Horizontal
 + Sliding Glass Vertical
 + 6K - 6144x2592 is now available

version 4.4 – 10 October, 2018
 + Added 50+ new transitions:
 + Split - 3 Lines
 + Stripes - Diagonal V1 & V2
 + Stripes - Horizontal
 + Stripes - Vertical

version 4.3 – 3 October, 2018
 + Fixed "The importer reported a generic error" on MacOS

version 4.2 – 27 September, 2018
 + Added 50+ new transitions: Light Leaks (v2), Warp Light Leaks, Panoramic Light Leaks, Flat Light Leaks

version 4.1 – 3 September, 2018
 + Added 80+ Text Transition Presets
 + Added help file about applying text presets

version 4.0 – 14 August, 2018
 + 400+ new transitions
 + 8 new ready-to-use resolutions
 + Added full resizeability

version 3.2 – 30 June, 2018
Added presets for 2704x1520 (GoPro)
version 3.1 – 28 June, 2018
Added presets for vertical videos
version 3.0 – 26 June, 2018
 + Transitions updated to drag-n-drop presets
 + 2 new transition categories: Panoramic RGB-split, Light Leaks
 + New tutorial video

version 2.5 – 15 June, 2018
 +140 Sound FX
version 2.0 – 18 May, 2018
New Tutorial: How to make transition copies
version 1.8 – 11 May, 2018
+ fixed Camera Transitions on MacOS
+ added transition resizing insctructions 
+ updated html-preview gallery

version 1.7 – 3 May, 2018
+New Transition Category: Camera, + new sound FX
version 1.5 – 30 april, 2018
+3 New Transition Categories: Blur, Stretch, Panoramic
version 1.0 – 25 april, 2018
Initial release
[ad_2]
Source
Free Png Image Download