Simple Infographics for Final Cut Pro X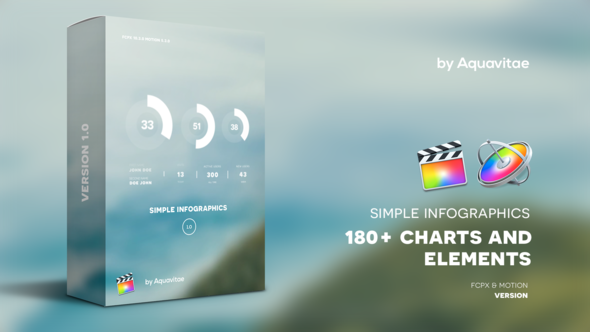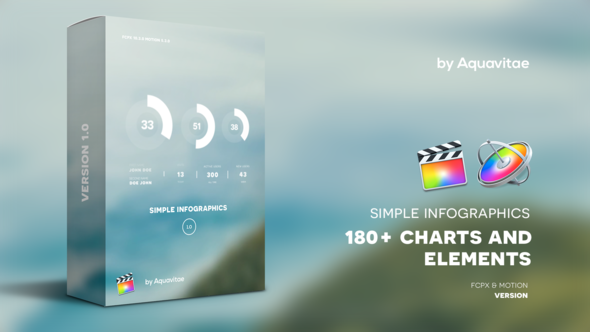 Create simple, beautiful infographics quickly and easily with this complete bundle for Final Cut Pro X 10.3.0 or Apple Motion 5.3 and higher. Easily customizable, fully supported!
Check full catalogue of chats & elements.
Note: This package works with FCPX 10.3.0 & Apple Motion 5.3 or higher versions. Pre installed Apple Motion isn't required.
What's inside?
Looking for a stylish way to visualize your data? You've come to the right place.
Simple Infographics contains a quickly customizable and easy to use charts & elements.
This package contains following categories:
● Pie Charts
● Horizontal Bar Charts
● Vertical Bar Charts
● Minimal Charts
● Data & Map Charts
● Graphs
● Dual Graphs
● Call Outs
● Lower Thirds
● Social Icons
● Dimension Lines
● Titles
Technical Features:
● Works with Final Cut Pro X 10.3.0 and higher and Apple Motion 5.3.0 and higher
● Resizable resolution, easy to change the size of elements without loosing quality
● All elements are divided on categories and desplayed on the titles sidebar
● Settings tab allows you to customize elements or charts easily and fast
● On Screen Controls will help you to customize standard properties like scale, position or rotation in few clicks
● Works with decimals, currencies and percents
● Drag & Drop charts or elements on the timeline and customize inside Final Cut Pro X
● Trim the duration of elements right on the timeline panel
● You can use this elements with photo or video on the background, alpha channel is supported
● Works with any language software
● Step by step video tutorial included
● Free font link included
● No plugins required
● Music is not included but you can buy it
FAQ
Here is you can find some frequently asked questions.
What can you do with it?​
Transform your standard company information or large volumes of data into beautiful yet simple, fully-animated infographics. Whether you put it in your company presentation or add it to your video infomercial, your audience will see your data and statistics in a whole new light.
Can I customize it?​
Of course! Simple Infographics for PCPX has been carefully crafted with all levels of user experience in mind. With a control panel available, you can easily update color, time, opacity, size and of course setup your data with just a few clicks.
Do I need experience with FCPX or Motion to get a professional result?​​
It's always useful to know your way around the timeline and the tools with FCPX or Motion, but even a beginner can achieve outstanding professional results with our bundle. We've also included a step by step video tutorial on how to customize the premade infographics.
Everything you need to get and running fast is included in the pack.
What resolutions are supported?​
All modern resolutions are supported to fit your project, including HD, Full HD, 2K and yes, even full 4K resolution!
Is there support if I get stuck?​​
Yup! If you get stuck and can't figure something out, we will always be available to help you get through the tricky bits. No problem, and at no extra charge. Please get in touch via email: [email protected]
Credits​
Music is not included to the project, but you can buy it here.
[ad_2]
Source
Free Png Image Download