Simple Infographics I MOGRT for Premiere Pro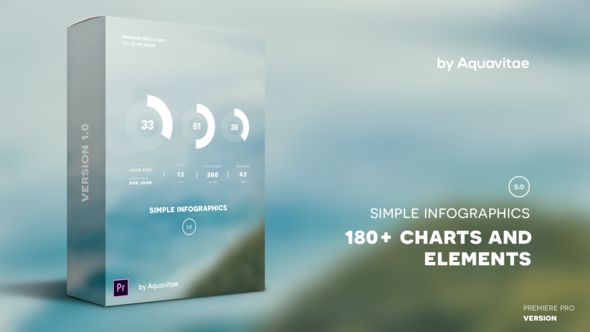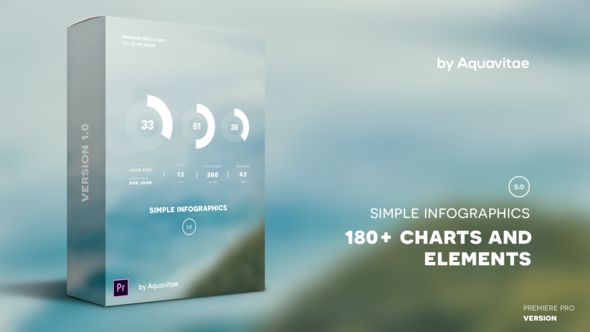 Final Cut Pro X & Motion 5 Version
Similar: Infographic Maker for After Effects
The folder structure of this package is arranged in a way that will make it in complete sync with Motion Factory. Motion Factory is a toolkit that will make the process of creation easy and intuitive.
Show full catalogue of chats & elements.
Note: This pack contains .mogrt files for Adobe Premiere Pro 2017 — 2019.
For Adobe Premiere Pro CC 2017 version of this project you need to have pre installed Adobe After Effects CC 2017 (license or trial).
If you have a Premiere Pro CC 2019 you don't need pre installed After Effects on your computer anymore!
What's inside?
Looking for a stylish way to visualize your data? You've come to the right place.
Simple Infographics contains an quickly customizable and easy to use .mogrt files with pre-made animated Pie Charts, Horizontal & Vertical Charts, Minimal Horizontal & Vertical chats, Pie Charts With Social Icons, Timelines, Call Outs, Text Blocks & Lower Thirds, and a Social Media Icons Package, with up to 4k resolution.
Easily customize your infographic charts with a full expressions control panel. Choose your color, setup total, intro & outro duration time, opacity, size, and of course setup the data with just a couple of clicks.
This template works with decimal values!
Simple Infographics it's:
– .Mogrt files
– Full expressions control – easily customize your charts in a few clicks
– Up to 4K (3840×2160) resolution
– All made with shapes, so it's easy to change the size without loosing quality
– Works with Adobe Premiere Pro CC 2017 – 2019 or higher (latest) versions
– Change font, font size, font style and etc. in Premiere Pro CC 2019
– Step by Step video tutorial included
– No extra plugins needed
– Works With any Language Software
– Free font link inside
Any questions? Please email me at: [email protected]
Music is not included, but you can find it here: Floating in Bliss

12 Dec 19

Added separate controllers for graph and numeric values, now you can adjust each controller individually. Added new features like distance between bars, height of bars, width of bars and other for vertical, horizontal charts and graphs. Reworked call outs, now you can adjust target point position and change direction of call outs. Fixed bugs and improved customization workflow.

31 Jul 19

Added the ability to change font, font size, font style and etc.

All settings are divided into the groups now. You can easily find needed settings on the Essential Graphics panel.

Fixed some bugs and issues.

02 Dec 18

Updated video tutorial. Added a new professional video tutorial with voice over.

05 Nov 18

Maximum length of each mogrt can be increased up to 30 minutes.

20 July 18

Fixed bug with duration control for non english versions of software. 
[ad_2]
Source
Free Png Image Download