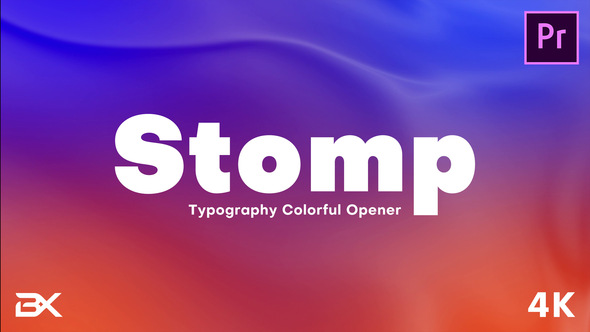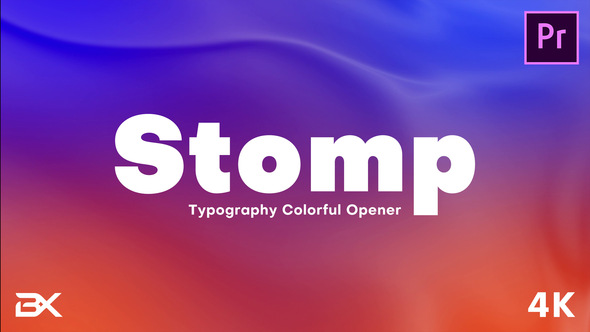 Stomp Color | Typography Opener | Claps Intro
Stomp Colorful Opener is a bright and dynamically animated Premiere Pro template with an eye-catching and colorful design, creative text animations and stylish transitioning effects. A trendy introduction to your products, commercials, promotions, fashion and events videos.
This template contains 70 editable text layers and 17 colorful animated footages. Simply edit the text, change colors and hit render.
Impress your audience with this fast and up to date animated Premiere Pro template. Available in 4K resolution.
Attention! Project with 4K resolutions (3840×2160px). You should have a powerful enough computer to work smoothly in Premiere Pro.
Video help file is included, check it on YouTube.
The project contains TDMOGRTTool.zxp – an extension for Premiere Pro

The "TDMOGRTTool" extension for Premiere Pro is designed to change the image inside * .MOGRT file.
*Some adjustments about TDMOGRTTul:
You can change only the image with the extension *.png. In the description inside the project there are links to online resources for image conversion.
The project needs to be changed and put on the render. Change photos NON-SAVE when closing a project. Changed the project – rendered.
How does it work for the buyer of the project *.MOGRt?
Project available in After Effect version.
Here are some Premiere Pro items I recommend
Project Features:
Colorful Animated Footage included;
Fast Render;
Multi-purpose;
Universal design;
Easy color change;
Well organized and easy to use;
Project Details:
Premiere ProCC 2019 (works with essentials graphic panel) and Above;
To change the font, After Effects 2019 (or above) must be installed;
4K (3840×2160p) Resolution;
29.97 frames/second;
Duration time: 0:32 min;
TDMOGRTTool.zxp included;
17 Animated Footage included;
Video help file is included;
The Fonts are not included; used free Objective font;
Music from Preview is not included; You can found it here: Stomping
Project Screenshots:
Not sure which License you need?
For basic information, check out Licenses of Videohive.
Need some help?
The included video tutorial is designed to save you time and help you create your projects in just a few steps. If this isn't what you're looking for or you have a question you need to be answered, get in touch through my profile page. I endeavor to get back to all queries as quickly as possible.
Customization:
If you do not have After Effects or Premiere Pro. Or you do not have time to set up the project, you can write to me through the contact form on my profile page.
Love this item?
Please leave us a five-star review and help us spread the word! It's feedback like yours that will help us to continue improving our product.
[ad_2]
Source
Free Png Image Download