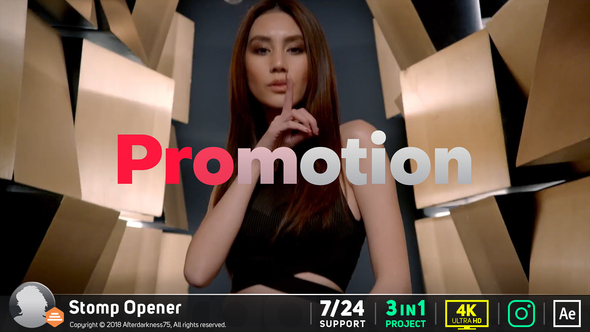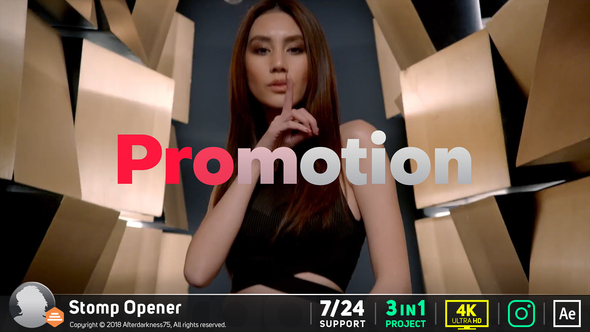 "Stomp Opener is an Energetic template for After Effects Opener Template. Preparing creative intro templates by Using Dynamic Animation and Unique Graphics.
Stomp Opener After effects template with instagram story ; Instagram Story 1080×1920 – (0:15)

Stomp Opener
Stomp is a professionally designed and constructed for After Effects Template. Stomp Opener can be used for a variety of projects you working on.
It features an Dynamic Typography and Cinematic based around the popular Typo Promo trend, is easy to customize, manipulate and alter to suit your individual styles. Useful for any type of area; Cinematic, Multi-Purpose Template, Fast Opener, Upbeat intro , Percussion, Commercial and Advertsing, Promote Your Product, clean and positive style. Travel Promo, Simple Opener, online marketing, Digital Media Agency, adword, creative agency promo, google, social network, web agency promo, social media promo, technology promo, inspirational, Fashion, Vogue, Glamour, Stomp Promo, logo reveal, fast promo, Fast Opener, modern opener, Dynamic Opener, marketing, online campaign, search engine, seo, Instagram and Facebook campaigns, Channel Promo,Trailer, Product Promo, Event Promo, Vlogger intro, Media Promo, Event Presentation, Showreel Production, special events teaser etc.
Super easy to customize; choose your text layer and update the required text, add your own images & video, and Your template is done! All editings can be done using the 'Control' layer, in After Effects which will provide ultimate familiarity and ease of use.
Suitable For…

This Stomp Opener After Effects Template could easily be incorporated into any of the following projects for a boost of energy:
Agency Promo
Brand Promo
Special Event Promo
Fashion Promo
Advertisements
Commercials
Interstitials
TV Show
Social Media Promotion

With the growing rise of popularity in video for social media this affordable project file could give your next project the exact hype it needs for today's savvy audience.
Also Stomp Promo; useful for any type of area; All for this events; adventure and travel videos, vlogs, presentations, lifestyle videos, action and sport videos, trailers, broadcast, company, timeline, company profile, promo video, reel, Demo Reel, summer vacation intro, brand opener, business opener, electronic, elegant, future, hi-tech, Presentation. This after effects template is best for any promo and presentation, like showreel production, fashion advertising, travel agency, traveling, travel promo, travel and tourism, trip etc.
Use your photos and videos with this after effects projects for: Music Promo, Fashion Promo, Sport Promo. Also It's great for Fast and Short Promo, Dynamic Typography, Typography Opener. You can share your video in Facebook, instagram, youtube, twitter or any social media area. Also you can use as vlog intro, blooger slideshow, vlogger opener or Presentation and etc.
Collections
Project Includes ( UPDATED )
Stomp Opener CS6 ( Prerendered version – no plugins required ) (0:30)
Stomp Opener CS5.5 ( Prerendered version – no plugins required ) (0:30)
Stomp Opener ( Prerendered version – no plugins required ) (0:30)
Stomp Opener ( Particular version – if you wish to make any changes ) (0:30)
Stomp Opener Short (0:15)
Stomp Opener Instagram Stories ( 1080×1920 ) (0:15)
Project Features
4K ( 3840×2160 ), 2K ( 2560×1440), Full HD ( 1920×1080 )
Easy to Edit
Modular Structure
Multipurpose Project
Well organized
Fast Render
Universal Expressions ( Works for all After Effects Languages )
Change All Settings with Control Layer
After Effects CS6 and CS5.5 PRERENDERED VERSION
After Effects CC and CC 2014, CC 2015, CC2016, CC2017, CC 2018
Free Font links in help file
Used Images, Videos and Music just for Preview, not included in the project file.
Music
Support

24/7 Customer Support – If you have any questions, Please feel free to contact me through contact form. Thank You.
Best Seller After Effects Template – Typography Promo
Screenshots
Videos used only for preview purposes under CC by 3.0 –
After Effects Templates & Projects from Afterdarkness75
Instagram Stories |
Opener |
Fashion |
Sports Intro |
Night Club Party Promo |
Glitch Promo |
Short Promo Opener |
Fast Opener |
Clean Slideshow |
World Soccer Cup Broadcast Pack |
Sport Opener |
Music Party |
Travel Slideshow |
Fashion Show – Backstage |
Slideshow |
Fashion Promo |
Intro |
News Opener Pack |
Dynamic Fashion Intro |
Sport Event Promo |
Vintage Fashion Slideshow |
Multi Logo Reveal |
Music Event Promo |
Urban Slideshow |
Event Promo |
Christmas |
Sport |
Fashion |
Youtube Opener |
Glitch Opener |
Cinematic Inspirational Slideshow |
Urban Fashion |
Urban Opener |
Cinematic Glitch Slideshow |
Car Logo Reveal |
Dynamic Sports Opener |
Fashion Show |
Summer Slideshow |
Event Promo |
Youtube Opener |
Travel Slideshow |
Demo Reel |
Fashion Opener |
Sport Motivation Promo |
Personal and Corporate Promo |
Typography Promo |
Fashion Promo |
Fast Slideshow |
Dynamic Slideshow |
Social Media |
Broadcast Pack |
Promo |
Slideshow |
Opener |
App Promo |
Glitch Logo Cinematic Reveal |
Dynamic Glitch Promo |
Clapperboard Transition |
Network Logo Reveal |
Short Promo |
Party Music Event |
Unlimited Film Credits Pack |
Action Promo |
Simple Logo |
3D Blocks Logo Opener |
Legends Cinematic Logo Reveal |
Soccer Opener

k
[ad_2]
Source
Free Png Image Download