UltimatePOS to WooCommerce Addon (With SaaS compatible)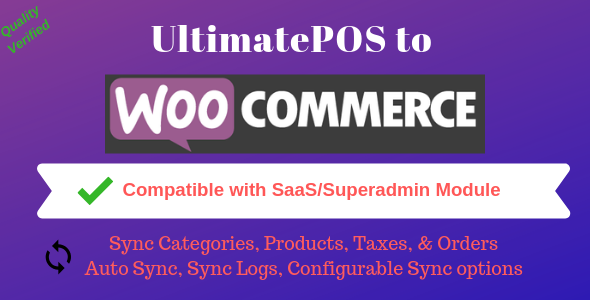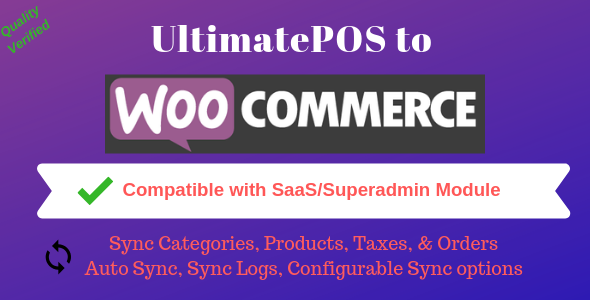 New Release: V1.1 – 8th November – 2019
Support of this items is included with the support of UltimatePOS Advance
Open online WooCommerce shop in minutes & keep it in sync with your POS application. 
No need to manually update products in multiple application (POS & Online Shop)
No need to manually update stocks.
No need to manually update orders from WooCommerce to POS.
No need to manually add/update categories in POS & Online shop.
Control all of this from one single application.
Before you Purchase: 
Note that this is not a Standalone application, it is an "Optional" extension to UltimatePOS Advance
This module is compatible with SaaS/Superadmin module.
UltimatePOS Advance is one in All Software with:
Stock or Inventory Management
POS (Point Of Sale)
Service & Invoicing 
It can be used for

All Services
Fashion & Clothing
Departmental Stores
Medical
Footwear, Liquor shops, Sanitary & Hardware
Salon & Spa
Home Appliances & Digital
Restaurants & many more …

Retails, WholeSale, Consulting.
Features in UltimatePOS to WooCommerce module:
Synchronization: 

Sync categories from UltimatePOS to WooCommerce.
Sync Products from POS to WooCommerce.

Single Products
Variable Products & its variations.

Sync Orders from WooCommerce to POS.
Map taxes between POS & WooCommerce

API Settings: Setting to provide WooCommerce API details.
Configurable Product Sync Option.

Configure the "Selling Price Group" for WooCommerce shop.
Configure the fields to sync while creating new product & updating products in woocommerce.
Configure the Products price including or excluding tax.

Sync Log
Compatible with SaaS/Superadmin module: Option to add this module as a part of subscription packages.
One Click installation.
Complete setup guide.
More updates coming soon…
Demo:
Link: https://pos.ultimatefosters.com/login?demo_type=woocommerce
Username: woocommerce_user
Password: 123456
Support Link: http://ultimatefosters.com/support/
Complete Documentation: Document
Version Log
New Release: V1.1 – 8th November – 2019
Improvements in syncing of products images
Added configurable option to sync Description with Short/Long/Both description in woocommerce
New Release: V1.0 – 27th August – 2019
Syncing of product images from POS to WooCommerce (Enable it from API Settings)
New Release: 8 July, 2019
Support for Orders Webhook: Orders Created, Update, Deleted or Restored. Powerful feature for real-time order update in UltimatePOS from WooCommerce.
New Release: V0.8 – 9th April
Reset Sync of Products & Categories
Improvements & fixes.
New Release: 13th February
NOTE: before updating make sure you have the latest version of UltimatePOS – 2.12
Synchronization Improvements
Minor fixes
V0.6.1 – 12th December
NEW: Sync product description
Sync process improvements & Fixes
V0.5
Initial Release
[ad_2]
Source
Free Png Image Download